Welcome to Friday Favorites, in which I share what I've been loving this week!
This week, I put up my Christmas tree and decorations and determined that I am too old to enjoy the Victoria's Secret Fashion Show.  If you watched my Insta-stories this week, you already know it took me almost all day and a therapeutic trip to Target to get my tree up and decorated, thanks to my not-so-helpful assistant.  But it is up!  Next up, the outdoor Christmas lights…. and possibly some more Christmas crafts because there is something wrong with me.
This is my daughter's face after I tell her, once again, not to climb the Christmas tree.  We went with a smaller one this year just in case it ends up toppling down.  Any tips for keeping toddlers from tearing down the tree and breaking the ornaments?  Leave me a comment!
Here are my Friday Favorites – things that have brought me joy this week:
Baby Animal Watercolors
My sister-in-law Libbo is an incredibly talented artist (I've written about her work here before), and she has a new series of watercolor baby animals that I absolutely adore!  They are so whimsical and beautiful and you can check out more examples on her Instagram here.
Lady Bird
Chatham and I went to see Lady Bird this week, a movie making headlines for smashing Rotten Tomatoes records as the "best reviewed movie of all time" (well-deserved, IMO).  Lady Bird was highly recommended by my sister-in-law Jane, who even came over to watch our kid so that we could go see it.  Starring Greta Gerwig, the film is a coming-of-age story about a high school girl who feels misunderstood in Sacramento, California, where she grew up and dreams of a future on the East Coast.  More than anything, the film is about her relationship with her equally-strong-willed mother.
Packed with emotion, humor, and nostalgia for the early 2000's, I would recommend this movie to anyone who was once a teenager (i.e. EVERYONE).  I'll be shocked if this isn't an Oscar darling.
This Dress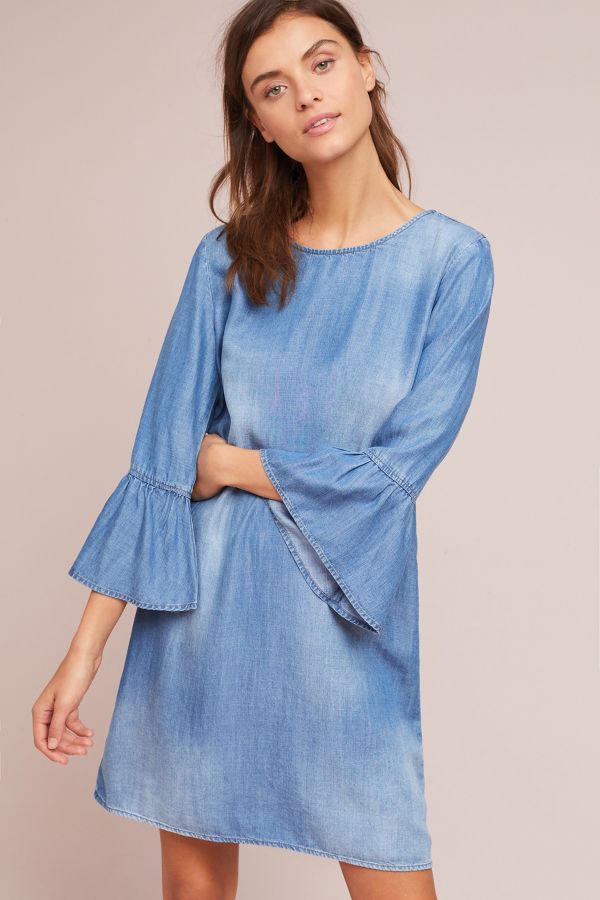 I went Black Friday shopping last week at Anthropologie and fell in LOVE with this dress.  The fabric is a high-quality chambray, and it is so, so soft.  I am obsessed with the bell sleeves and the open back with a tie (click on the photo for another view).  I did not buy it, because the lines for the dressing room and registers were too long and my daughter was getting cranky (that's what I get for going to a store on Black Friday, right?), but I will probably order it before too long.  This is a perfect dress that I could wear now since it is still hot here in Florida.  It would also be a great dress to wear all spring.  I can think of so many ways to dress this one up or down.
Pantsuit Politics Podcast
I have been listening to SO many podcasts lately and one of my favorite political/news podcasts is Pantsuit Politics.  The two hosts, Sarah and Beth, represent views from the left and the right respectively.  Twice a week, the women open-mindedly discuss current events and important issues in an entertaining and informative fashion.  I tend to steer clear of mainstream news channels and talking heads because all the partisanship and fear-mongering makes me anxious.  Pantsuit Politics is a refreshing alternative.
How was your week?  What are your Friday Favorites?  What brought you joy?